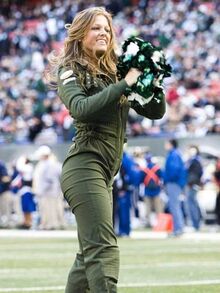 Alyssa Patrone
is an American dance teacher at
Anita's Studio of Dance and Theatre Arts
in East Northport, New York. She teaches tap, jazz and combo classes at Anita's Studio of Dance.
Alyssa began dance at Anita's Studio of Dance at the age of only 2 1/2, Since then, Alyssa has been trained in many areas of dance such as jazz, tap, ballet, lyrical and contemporary. She was a member of the studio's National Competition team for eight years and a member of the Senior Company for six years, Alyssa was also a senior captain of her high school dance team, the Northport Tigerettes, and was an alumni chaperone for the team in the summer of 2009. Alyssa also worked closely with the coaches of East Northport Middle School Kickline from 2004-2006. Alyssa began her professional career as a member of the New York Jet's Flight Crew dance team for the 2008 season' She also danced for the Brooklyn Cyclones as a member of the Beach Bums in the summer of 2009, This past year, Alyssa joined POSH Dance Productions. a dance company which has opened up performance opportunities at places such as the Bitter End in New York City' Aside from teaching at Anita's, Alyssa is also entering her fourth and final year of college at Hofstra University, She will graduate in May with a Bachelors Degree in History with a minor in Public Relations Alyssa is also the director ofA Midwinter Night's Dream Philanthropy Center, a non-profit facility that aims to motivate and empower students desires to make a difference in the world by teaching classes and holding lectures.
In her spare time, Alyssa enjoys spending time with her husband and two sons.