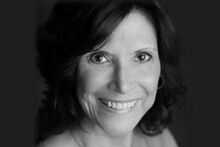 Anita Goldstein
(b. June 9, 1944) is the owner of
Anita's Studio of Dance and Theatre Arts
in East Northport, NY.
Miss Anita began dancing at the age of 3 1/2 and continued her studies with Nellie Cook until she was 20. At 17 she was accepted as a New York Junior Rockette. Miss Anita extended her dance education by studying under numerous masters, including Frank Hatchett, Jo Jo Smith, Mary Jane Brown, Charles Kelley, Steven Boyd, Luigi and David DeMarie. She has also received many college credits in Dance Education through an intensive Course given by Dance Educators of America. Currently certified by Dance Educators of America in tap, jazz and ballet, Miss Anita has taught tap, jazz and ballet to children, teens and adults for the past 35 years. She also taught ballroom dance to couples and groups for 10 years. 
In January 1975, Miss Anita combined her love of children with her love of dance and founded Anita's Studio of Dance and Theatre Arts. She has conducted workshops for various children's groups, and also worked with several of the Northport-East Northport School District Elementary schools incorporating dance into their physical education curriculum. Miss Anita orchestrated, directed and performed with her own dance company from 1975 through 2003, and she continues to direct the dance companies at her studio today. Past performances of these dance companies include: the East Northport Festival, the Huntington Fall Festival, St. Hugh's Parish Outreach Toys for Tots Christmas Show, performances at Developmental Disabilities Institute in Huntington, as well as assemblies at various local elementary and middle schools. Miss Anita is married with two daughters, Carolyn and Barbara, and four grandchildren, Michael, Nicole, Gianna and Isabella.